Since 1982, we have helped our clients develop their individual house plans or project plans, depending on their needs. We are proud to work in Abilene and the surrounding areas. Scott Dawson Builders Inc.'s crew works on your project from start to finish. We focus on one home at time- yours!
Scott Dawson builders Inc. has been building quality custom homes for the past 35 years. Scott & Maureen Dawson based their business on teamwork, quality, reliability, and creativity. Times may have changed since they built their first custom home, but their philosophy remains the same. The Dawson's want to provide you with the means to create the home of your dreams!
A note from owner/designer Maureen Dawson:
Scott and I spend time listening to our clients and hearing their wants and needs in order to get them the home of their dreams. Dream it, build it, love it! We live by those words, and we hope that you will too.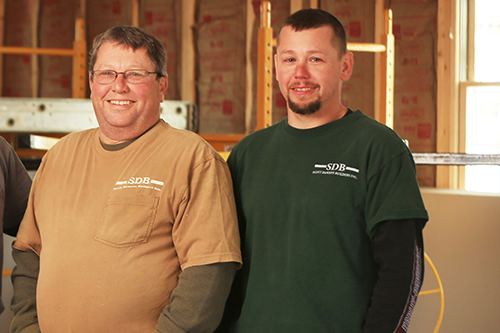 Over the years we have built over 25 homes in North Central Kansas. 35 years, several duplexes, room additions, endless remodels, and numerous construction projects have taught us what is truly important to our clients. We can help you build your small dream home, expansive home, or remodel your current place. Big or small, a home is a home, and your should be as unique as you are.
Our homes not only hold their value, but many have increased in value over the first several years. We build only a few homes a year because we build it not a grab-bag of sub contractors. Scott does the construction himself with our son and employees. From start to finish we are on the job-site every day. Each home we build has our undivided attention, and we feel like that is the way it should be done.
We have two residential subdivisions: Dawson Estates has larger lots ready for larger homes. We also have the Dawson cottage addition with smaller lots for, you guessed it, smaller, more affordable homes.
We are grateful to be blessed to live and work in Abilene. We raised our family here and here is where we will stay. Stay to continue to provide quality housing and to stand behind our word and product.
THE DAWSONS: SCOTT & MAUREEN
Scott Dawson Builders Inc. is a family run corporation in the town of Abilene Ks. Abilene has been home to the Dawson family for over 40 years. They began building homes in the Abilene area in 1982. The practices of quality craftsmanship, customer service, and pride in a job well done are the cornerstones of this family business.
Services / Projects
New Homes – Additions – Kitchens – Decks – Garages – Trenching – Dirt Work
Quality: "The Good Stuff!" For many years families have sought out Scott Dawson Builders for homes of lasting quality, crafted around the way they live every day. Craftsmanship: As we craft a home, we allow for improvisation, inspiration, and fresh creative thinking on the job. You always get more value from a SDB home than you planned for. Value: We have built our reputation on constructing homes using the ideas our clients have brought with them. Satisfaction: We offer "A discernible difference" to you which means: "Building according to desires" instead of "building according to plans" "building a lifetime relationship with a valued customer" instead of "building for a customer."