Garden Home Leasing
Welcome to Dawson Garden Homes! These lovely units are located on Elm St. in Abilene, Kansas. Our two-bedroom units offer unique conveniences for anyone 55 and over who is looking to downsize or live in a garden home atmosphere. Our garden homes offer the following benefits and amenities, and are only steps away from Abilene senior citizen center.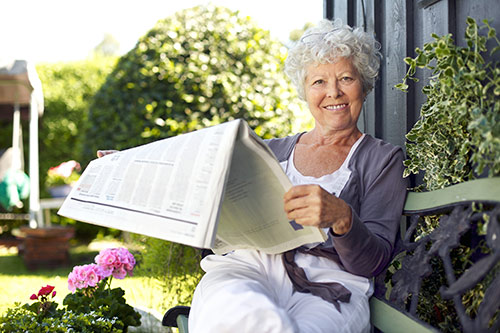 Comfortable independent living: Why not keep your independence as long as you can? Reaching retirement doesn't mean you have to compromise your living situation. Tenants of our retirement communities in Abilene, Kansas love the garden home idea because of the safe, stress-free living and the absence of the worries of homeownership. You will love the abundance of natural light, large living space and dining rooms that are perfect for entertaining.
Built-in accessibility and safety: Dawson Garden Homes are unique and offer ease-of-access convenience at every turn. Our garden homes feature walk-in custom tiled showers, 36-inch ultra-wide doorways and ADA-recommended lavatories for safety and security. In addition, the attached garages have a private safe room with a triple locking door system for threatening weather, as well as ample storage.
Maintenance provided: Are you tired of yard maintenance? These units solve that problem and more. When thinking of safety issues, the maintenance-free lifestyle means no more yard work in 100-degree heat. The Dawson Garden Homes staff is always just a phone call away, and will take care of all your maintenance needs. Snow removal and housekeeping services are available for an extra monthly fee.
Greener living: Dawson Garden Homes are non-smoking, energy-efficient and created with you in mind. Utility bills are lower than what homeowners are accustomed to because of "greener" building decisions, including high-efficiency kitchen and heating and AC units. These retirement homes in Abilene, Kansas offer the finest in efficiency, and we're committed to staying on top of the latest advances.
Enjoy your retirement in style with Dawson Garden Homes! Availability is limited, so please consider getting in touch to be placed on our waiting list. This ensures you will be considered when one of our garden homes becomes available.
When you are looking for retirement communities in Abilene, Kansas, we hope you think of Scott Dawson Builders, Inc. If you would like to learn more about us, or set up a time to meet with our friendly staff, please give us a call at (785) 479-6483.